Anita B. Roberts Lecture Series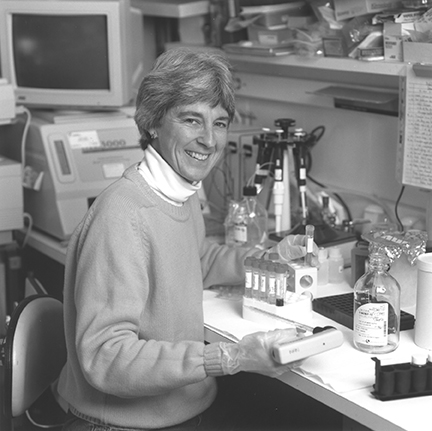 The Anita B. Roberts Lecture Series, "Distinguished Women Scientists" at NIH, highlights outstanding research achievements of women scientists at the NIH. The seminar is dedicated to Dr. Anita Roberts and honors her role as an exceptional mentor and scientist.
Anita joined the NIH in 1976 and spent 30 years at NCI, rising to Chief of the Laboratory of Cell Regulation and Carcinogenesis. She died of gastric cancer in May 2006, leaving a legacy that touched both the professional and personal lives of all who knew her. Her work focused primarily on TGF-beta and its role in the growth of epithelial and lymphoid cells. In 2003, Thomas Scientific's Science Watch listed her among the 50 most-cited scientists during 1982 to 2002, a feature called "Twenty Years of Citation Superstars."
Anita was a superstar to many for her mentoring talent and her ability to balance family and work life. Her successful lab was well known for meeting family needs and for providing an environment both intellectually and emotionally enriching. The lecture series in her name serves to highlight the fact that the NIH recognizes the value and necessity of a supportive workplace.
For additional information regarding Anita's legacy, please visit the links below:
To see a complete list of Anita Roberts lectures, please visit the NIH VideoCast site.
Upcoming Lecture
The 2023 Anita Roberts lecture will be given by Yasmin Belkaid, Ph.D., of NIAID on November 7 at 1 p.m. ET.. The title of her talk will be "Microbiome Control of Host Immunity."
Past Lectures
2022
Advancing the Development of Effective Therapies for Children and Adults with Rare Tumors
Brigitte C. Widemann, M.D.
Senior Investigator and Chief of the Pediatric Oncology Branch, CCR, NCI
2021
The Science of Health Disparities: the Social Determinants of Health Meet the NIH Mission
Michele Evans, M.D.
Senior Investigator and Chief of the Health Disparities Research Section, NIA
Deputy Scientific Director, NIA
2020
Human Microbiome: Friend and Foe
Julie Segre, Ph.D.
Senior Investigator and Chief of the Translational and Functional Genomics Branch, NHGRI
2019
Williams Syndrome: A Rare View of the Path from Genes to Neural Circuits to Behavior and Back Again (link not available)
Karen Berman, M.D.
Chief of the Clinical and Translational Neuroscience Branch, NIMH
2018
Specializations for Decision Making in Primate Prefrontal Cortex
Elisabeth Murray, Ph.D.
Chief, Laboratory of Neuropsychology, NIMH
2017
The Hidden Secrets of Small Genes
Gisela T. Storz, Ph.D.
Head, Section on Environmental Gene Regulation and Associate Scientific Director, Deputy Chief of Cell Biology and Metabolism Program, NIEHS
2016
Functional Architecture of Face Processing in the Primate Brain
Leslie Ungerleider, Ph.D.
Principle Investigator and Chief of Laboratory of Brain and Cognition, NIHM
2015
Precision Medicine in Action: Applying Genomic Tools to Improve Patient Outcomes After Organ Transplantation
Hannah Valentine, M.D., M.R.C.P.
Senior Investigator, Laboratory of Transplantation Genomics, NHLBI
2014
Neurotrophic Factor α-1: A Key Regulator of Neuroprotection, Depression, and Cancer Metastasis
Y. Peng Loh, Ph.D.
Section Chief, Section on Cellular Neurobiology, NICHD
2013
Seeing is Believing: Functional Biology at Atomic Resolution
Wei Yang, Ph.D.
NIH Distinguished Investigator, Laboratory of Molecular Biology, NIDDK
2012
Neural Immune Connections: From Bench to Bedside and Beyond
Esther M. Sternberg, M.D.
Research Director, Arizona Center for Integrative Medicine, University of Arizona at Tucson; Formally Chief, Section on Neuroendocrine Immunology and Behavior, NIMH
Inside the Parkinsonian Brain: Is Too Much Rhythm a Bad Thing?
Judith Walters, Ph.D.
Chief, Section on Neurophysiological Pharmacology, Experimental Therapeutics Branch, NINDS
2011
Chromatin Regulation of Innate Immunity
Keiko Ozato, Ph.D.
Chief, Section on Molecular Genetics of Immunity, Laboratory of Molecular Growth Regulation, NICHD
The Shape of Things: Complex Genetics of the Domestic Dog
Elaine Ostrander, Ph.D.
Chief, Cancer Genetics Branch, NHGRI
2010
Integrating T-Cell Signals
Pamela Schwartzberg, M.D., Ph.D.
Head, Cell Signaling Section, Genetic Disease Research Branch, NHGRI
Brain Development in Healthy, Hyperactive & Psychotic Children
Judith Rapoport, M.D.
Chief, Child Psychiatry Branch, NIMH
2009
Host Defense Gone Awry: From Inflammation to Cancer
Sharon Wahl, Ph.D.
Chief, Cellular and Clinical Immunology Section, Oral Infection and Immunity branch, NIDCR
The Pandemic Threat of Avian Influenza Viruses
Kanta Subbarao, M.D.
Chief, Emerging Respiratory Viruses Section, Laboratory of Infectious Diseases, NIAID
2008
Emerging Fluorescence Technology for the Analysis of Protein Localization and Organelle Dynamics
Jennifer Lippincott-Schwartz, Ph.D.
Chief, Section on Organelle Biology, Cell Biology & Metabolism Branch, NICHD
Stress Adaptation vis Regulatory RNAs
Susan Gottesman, Ph.D.
Chief, Biochemical Genetics Section, Laboratory of Molecular Biology, NCI/CCR
2007
Why Is It So Hard for the Addict's Brain to Say No?
Nora Volkow, M.D.
Director, NIDA
The Many Guises and Disguises of Follicular Lymphoma
Elaine Jaffe, M.D.
Head, Hematology Section, Acting Chief of Pathology, NCI
2006
Genomic Medicine and Cardiovascular Disease
Elizabeth G. Nabel, M.D.
Director, NHLBI; Chief, Vascular Biology and Genomics Section, NHGRI
This page was last updated on Tuesday, April 18, 2023