SCC Completed Projects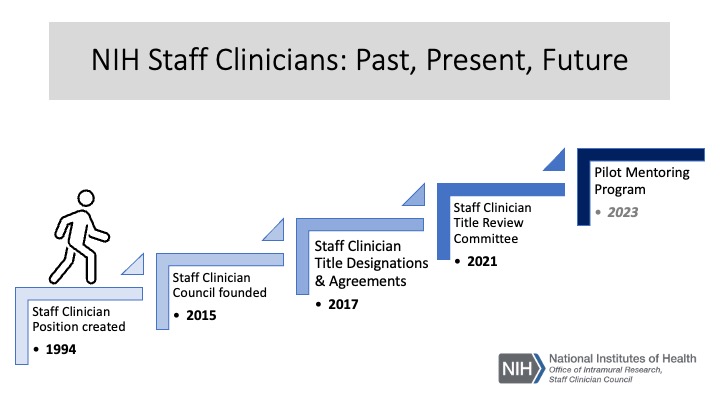 Staff Clinician Professional Development Seminar: This seminar was held on September 23, 2019, on the NIH Bethesda campus. The seminar was sponsored by the Staff Clinician Council and the NIH Clinical Center, and the agenda is posted at https://bit.ly/2Oe2bTc. Breakout sessions included: Session A, Resources (CRADA/Bench-to-Bedside/U01/MTA); Session B, Authorship/Collaborations; and Session C, Developing Leadership Skills. A photo is above.
Staff Clinician Tiered Professional Designations: Similar to universities, the tiers of Assistant, Associate, and Senior Research Physician have benchmarks and criteria needed to attain these designations. When a staff clinician is eligible for promotion to the next level, promotion packages are reviewed by committees in the ICs and those actions are sent to the Deputy Director for Intramural Clinical Research for approval.
Staff Clinician Agreements: Implemented a requirement for agreements between individual staff clinicians and their supervisors or ICs to make explicit protected time, meeting travel, web presence, and any clinical and research resources.
Staff Clinician Representation: The chair of the Staff Clinician Council is now a voting member on the Medical Executive Committee.
Staff Clinician Rights: In a combined effort, the Council of the Assembly of Scientists and the Staff Clinician Council obtained a statement from the DDIR setting out its role in the review of IC actions against protocol PIs accused of regulatory misconduct and the ability of anyone so accused to seek such a review.
Staff Clinician Professional Travel: Two meetings per year for assistant or associate level, and 3 meetings per year for senior level (not including sponsored travel). At least one of the meetings can be for CME (no presentation required).
This page was last updated on Monday, May 8, 2023